Give the gift of Calmind premium for one year.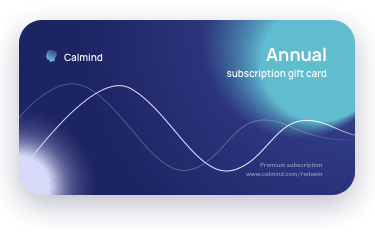 Gift yourself & your loved ones a year full of all of Calmind's features, and enjoy all its benefits. Let's create a world where people are happier, less stressed, and healthy.
Your Calmind Premium gift code will be sent to your e-mail address after your payment.
Focus
Focus on activities & boost your productivity on-demand
Sleep
Fall into a deep and natural sleep with our sensory focused sleep stories
Relax
Relax your mind with special B~ASMR tracks and reduce level of stress & anxiety
Happiness
Track your positive memories and increase your happiness